It's Halloween officially in Germany! Tonight (well I guess last night now) a friend and I went to Toys R Us (yes we have one here too!) because they were havping a Halloween Party. Let me first start off by saying that Halloween is really an over all "new" "holiday" for Germans. They dress more like they do for Fasching which is in rather scary costumes. It's a little too much for me, but anyways...so we got down there about 5 and the kids go to different stations do something and get a stamp on their paper necklace ghost and at the end they go to the checker and get a bag of goodies. The first station they got Kinder tea which is just a treat for the kids, the next one they stuck their hand into different boxes...some had spiders and other fake insects, etc and one had speghetti, they got a piece of candy and of course their stamp. The next one they had to use a broom to scoot a skull around the freakiest looking stuffed cats I've EVER seen! At the end they got suckers! LOL They had a "spooky" tunnel to crawl threw and got vampire teeth, the last one was they ate this German goody...it's marshmellow on the inside and chocolate on the outside. I've had it before and don't like it. The boys liked it of course! LOL They had to eat it without using their hands. They had fun.
After they were done we decided to walk through again and this time look. I got Emma some little wool booties! They're so adorable! I'll have to try to remember to take a picture of her with them on. I may put them on her tomorrow/tonight with her costume. Emma's going to be a Princess! :) The boys are both being Peter from The Chronicles of Narnia. The boys have been counting down the days until Halloween! They're both so excited.
This year instead of the normal trick or treating we'll be going to the Fall/Halloween Festival instead. No scary costumes are allowed. It's sponsored mostly by the Chapel. I'll be working the PWOC table (we have a craft for the kids to put together) from 7:40-8:00, I have the last shift so I have a feeling it may be slow for me. There will be games and other activities for the kids to do. I really hope it's successful and they continue this from here on out. It's nice to have a Christian alternative and not worry about our kids getting scared because of the scary costumes.
Chad heads out for training on Thursday. He'll be back in time for Thanksgiving. This will be the first time other than 2 weeks ago that he's been actually gone for anything. Two weeks ago he was in school, but this is actual field time training. He missed the last time because he was on leave for having surgery on his knee. I have to say it's good that he's going. I guess you could say I make a good Army wife. I love, and I mean I DO LOVE this man...he gets on my nerves either way though! He's been home for a year now! In ways it feels longer than a year since he was last deployed, but we hit that mark last week! I am glad he's home for Halloween though. It should be a good break though for us. He'll get to call plenty. I do need to make sure that tomorrow he goes and gets more time put on his phone so he can call when it's good for him. I always call him back so it doesn't take his minutes (yes in Germany if you get a phone call it doesn't eat away at your own minutes!). I know the boys will miss him and by the time he gets home, I'll be ready for him to be home! :)
Ok so as you can see I have lots of Halloween graphics! I actually have more, but figure I'll save those for after trick or treating and I share pictures! Oh I have to tell you what Chad brought home this morning. A hedge hog! I was not very happy with him and told him to release him. The boys both got to hold him (they had thick gloves on). They were both thrilled as could be. He was cute I will admit it, but he's a wild animal. Tonight when I went to drop dinner off to him, I surprised him and there he was sitting there holding that darn hedge hog which he's named "Sammy"! That thing was all stretched out, quite comfortable in his hands being "petted" yes I'm DEAD serious! I told him it was time to let that poor thing go. I made him promise and when he called after we got home he said he went and released him back where he found him. I'll have to post the pictures of them holding him tomorrow.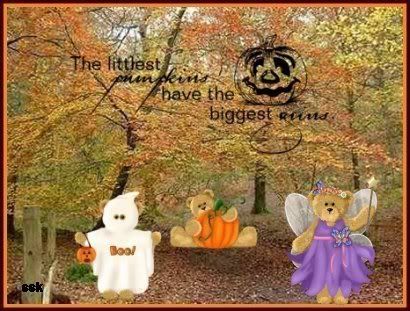 Well it's late. The banana bread I made for PWOC is now out of the oven. I'm heading to bed.